What sold me on my home? The kitchen. Point blank period. I was 24 years old, and was thinking about a kitchen and how good I could cook in it. Shortly after we moved in, my Grandmother  came by for her first visit, and the first thing she said was
"I LOVE THIS KITCHEN. THIS IS A COOKING KITCHEN TAMARA. I WOULD LOVE TO COOK IN HERE."
All I could do was smile. But now time has passed and there are so changes that I would like to make to the famous kitchen. Mostly everything in it is builders grade, but for our first home, we loved it. Anytime we have a party, or company over. The kitchen is the hot spot.
For me, any kitchen of mine must have a kitchen island. It is not only a great prepping area, but it can also be a wonderful spot to conversate at, or to just hang out while your cooking, or if company is over.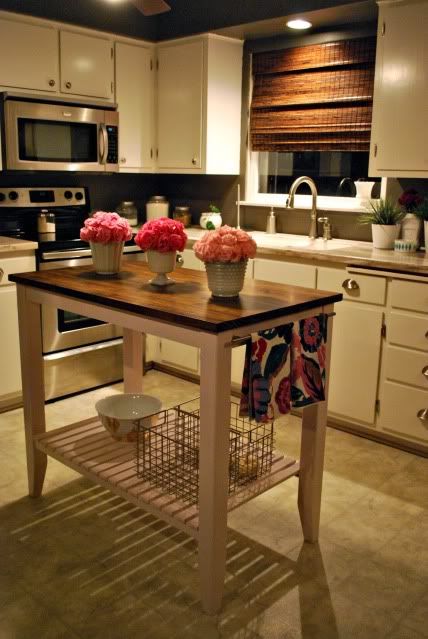 A good cutting board is also a must have. We started out with the plastic cutting boards, and glass I believe. But after I spotted an almost 2 inch thick bamboo cutting board, I was sold. Not to mention The Food Network helped to show me, what I really needed in a cutting board.
Stainless steel appliances. They will make everything look great in my opinion. Easy to keep clean, modern, and here to stay.
Good lighting. Since I do cook, I have noticed they did a poor job with the lighting plan in our kitchen. I have to use the lighting in the breakfast nook, just to get the right amount of lighting to cook properly. Recessed lighting is a huge favorite of mine. If I could not have that, I would want some great fixtures that look great, and give the right amount of lighting.
My new must have is subway tile. I love it. Easy, simple, and distracting. You can find the least expensive subway tile, and make your kitchen look great with application. I have seen glass, marble, stone, it's a style that is timeless.
High Fives & Hugs,
Tamara Styles
images: a) island kitchen, b) white kitchen c) island addition d) lighting in kitchens  e)stainless f) gray marble tile g) blue tile h) white tile